I somehow assumed that since Mama had been slipping away bit by bit for over a decade, that I would not need to mourn.  I thought that since I have said all my goodbyes, I would experience her passing with a minimum of grief. I don't know if I ever said any of that out loud, or whether it was just a vague idea, but either way, as it turned out this was not true. After her passing, I experienced sudden bouts of crying and waves of sadness would wash over me at unexpected times.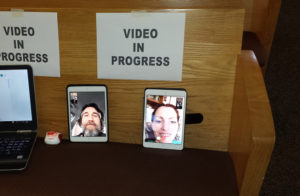 Another assumption I had made was that since Mama had been 'out of social circulation' for over a decade, and several of her friends had already passed, it would be better to hold a quiet, family gathering to remember her rather than a more formal memorial at a church. Again, my assumption turned out to be mistaken. I quickly came to realize that not only did I need to have a memorial for Mama, other family members, friends, church friends and previous co-workers also needed to have the closure that a memorial service provides.
We wanted to keep it on the simple side
The first thing my sister and I needed to decide was: who would perform the service and secondly, where would it take place?  We decided to hold it at the church where my sister teaches a class. It made sense as there would be built-in support from others who attend there. Mama had been an Episcopalian but had stopped attending a number of years ago due to health issues. We felt it would be okay with her to be remembered at a Baptist church.
We also wanted the service to be performed by the same person who had performed our daddy's memorial service a decade ago. It was slightly more complicated—not only had he and his lovely wife moved to Portland, Oregon, but they were also dealing with the grief of losing a son in a very unexpected and tragic circumstance. Nevertheless, he agreed to perform the service and we set a date.
The next item on our to-do list was to write an obituary. I wrote up a preliminary draft, and my niece, Christi who is our family historian filled it out in a way that wonderfully captured Mama's personality. Obituaries can be expensive to place in the newspaper, but it helps to let others know about the passing and memorial details, as well as a useful record for future generations. Costs can be kept to a minimum by only submitting basic information.
Due to this modern, mobile age, much of our family—like so many others are living in other states and countries. But also due to the modern age, we now have technology that helps overcome these distances. Some of our children were able to attend the memorial service through the use of Facetime. We set up two iPads on the front pew and everyone could see and hear quite well. Technology is great!
And finally, a memorial service is also one more way to show honor to a parent. As God's word tells us in Ecclesiastes, there is "A time to mourn." I have come to the conclusion that memorial services – no matter how simple or elaborate, are an essential piece of the grieving process.
---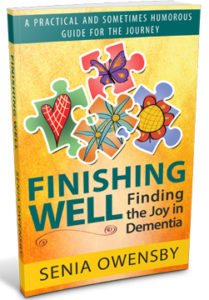 ---
Has your world been touched by dementia? Or, are you a caregiver? My recent book, "Finishing Well: Finding Joy in the Journey", is a collection of stories and tips about doing life with my Mama. May it encourage and inspire you to find the joy in your own, unique journey. Find our group on Facebook