William Shakespeare wrote:  "Some are born great, some achieve greatness, and some have greatness thrust upon them." Most family Caregivers I know fall into that last category.
It turns out that November is National Family Caregivers Month. Caregivers are typically folks who stepped up to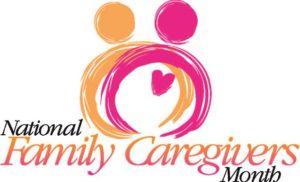 the plate and accepted the role of caring for parents, spouse or other loved-ones.
This is a good time to celebrate the contribution of those volunteer friends and family members who care for loved-ones – not by a pat on the back, but in some concrete ways. Family Caregivers are certainty heroes, but not 'Superhero's (meaning they can go on endlessly and never tire).
Usually, Caregivers are not complainers and are often reluctant to ask for help. Because of that, I thought I would offer a few suggestions that will provide concrete help for those who are either a Caregiver or a Friend of one.
Friend: provide a meal for someone who is caregiving. Caregiver: Accept/request a specific meal.
Friend: Offer to sit with a loved one.  Caregiver: Accept the offer for someone else to sit with or visit your loved one.
Friend: Offer to run errands.Caregiver: Accept the offer and make a list.
Friend: Clean/do laundry (even taking larger bedding to a laundromat).  Caregiver: Accept the offer – you can't do it all.
Friend: Ask your friend specifically what you can do to help.  Caregiver: Accept the help, answer honestly.
Additionally, 'Alzheimers.net' offers some very specific ways to help the unsung heroes in our world. Click on the following link for ideas: 7 Ways to Celebrate  Caregivers 
Additional caregivers resources include:
Remember, you can't do it all whether you are the caregiver or friend. Sometimes the best help may be a welcome visit that provides a temporary distraction.
(Disclaimer: Though I check all links for reliability, I cannot personally vouch for each company listed. Please use wisdom as well as your own discretion when engaging with any of the resources listed above."
Keep in mind that links can change. If you discover a broken link, please make me aware of if so I can fix it. Thank you.
---
---
Has your world been touched by dementia? My recent book, "Finishing Well: Finding Joy in the Journey", is a collection of stories and tips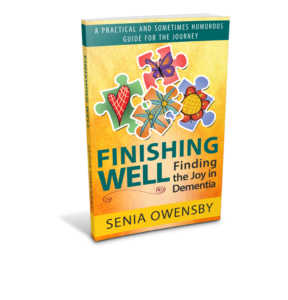 about doing life with my Mama. May it encourage and inspire you to find the joy on your own, unique journey.
Find our group on Facebook