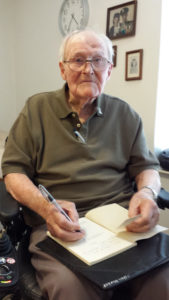 I thought I was going to interview a drummer. I'd gotten a tip from a friend whose band plays oldies for several of the care homes in the area. He said there was a resident at Brookdale who is over 100 years old and when they visit there to play, he brings out a drum set and joins them.  I was intrigued, so I made arrangements to meet with this centenarian drummer.
As soon as I met Allen Barker, I knew it was going to be an interesting visit. His spacious suite is filled with photos, books, and of course, the drum set. I settled in to begin asking my standard questions beginning with "How old are you?"
He replied, "One hundred and one and one-half years old."
When you are over one hundred, it makes sense to count the months as well. From there he began talking, and I took notes furiously while he spoke.
During our conversation, I learned that he was more than a drummer – much more. I discovered he had quite a heritage and history. Way back in the 1800s his great-grandparents were forced to migrate to an area in present-day Oklahoma in a journey called the "Trail of Tears".
Born in 1914 in Evansville, Arkansas, his family moved to New Mexico where he spent his formative years.  Allen began taking violin lessons as a young lad. With a twinkle in his eye, he said that the ability to play the violin got him into most dance halls for free.
After a couple of stints in the army involving both horses and ships, he earned his B.A Degree in Language Arts from Eastern New Mexico University,  and a Master's Degree in Earth Science from East Texas State.
Living all over the South West, his jobs were as diverse as the places he lived; teaching, geology, mine surveying, and even one profession I had never heard of before: Gandy dancing.
According to Wikipedia :
Gandy dancer is a slang term used for early railroad workers who laid and maintained railroad tracks in the years before the work was done by machines. Since the work needed to be done in a coordinated effort, they would sing songs to keep the rhythm while they worked. To an onlooker, it appeared they were dancing.
With a smile, he told me how he would hop a train and ride it until it came to a job site and then he would simply ask the foreman of the crew for work. He enjoyed it – the work was hard, but the pay was good.
Besides being musical, his talent for writing opened many doors as well. He has contributed to newspapers and magazines such as 'True West', and worked as a reporter for 'All That Jazz'. However, his main writing interest centered on the renowned resident of the Southwest, 'Billy The Kid'. Allen is a wealth of information and he has written three books on the legendary outlaw. His expertise developed over time as he lived in every Southwestern community the Kid did, from Silver City to the Texas Panhandle.
Allen is still married to Lillian, the love of his life, whom he married in 1943. Drumming, it turns was more of an afterthought when he found he didn't have the dexterity for the violin, but had plenty of rhythm.
When I asked Allen about what he attributed his long life to, he gave me another one of his famous smiles and responded:
"I have lived this long, not due to making good choices, but rather making interesting choices – but then they turned out to be good."

---

---

Has your world been touched by dementia? My recent book, "Finishing Well: Finding Joy in the Journey", is a collection of stories and tips about doing life with my Mama. May it encourage and inspire you to find the joy in your own, unique journey.

Find our group on Facebook