I had a lovely visit with an old friend the other day. I don't call her old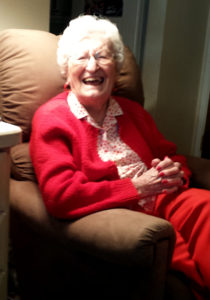 because she is in her late 90's, but because we have been friends for a very, very long time.
I asked her what she had been up to, though with Irene, I knew it would have something to do with sewing. The last time I had visited with her, she was busy making handy meal bibs for all the residents in the retirement village she lives in. She explained that she had become known as the lady who could fix anything – a torn seam, a button, hem or repair a worn spot.
From time to time, various neighbors would drop by with whatever garment needed attention, and Irene would go to work like a busy bee and take care of it. She said that sometimes she had a large pile of items, and then sometimes, several days would go by between projects. She explained that she doesn't charge her neighbors for sewing – it's a ministry. She feels as if her ability to sew – even to have good eyesight at her age – is a gift from God to share with others.
She always makes me laugh, and this visit was no exception. As always she was beautifully dressed in an outfit that she created.
Her tiny little apartment  is filled with dolls from her doll collection. Irene's collection is different from any other I have ever come across. Hers are not fancy or expensive but rather they are 'Rescue Dolls' that someone has neglected and tossed aside. Over the years, they came to her all grimy, with matted or missing hair and torn clothing. Irene vigorously and lovingly scrubs them down, repairs their hair and creates a special outfit for each one – including booties and a beanie.
Irene loves each one of her dolls, but there is one in her collection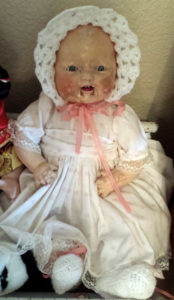 that is her most prized possession. It is a doll her Mother gave her for Christmas when she was seven-years-old. Irene immediately fell in love with her doll. Her sewing talent was developed and blossomed through the tremendous number of outfits she made for the doll over the past ninety years.
Irene's doll stands as a witness to the beginning of what has become almost a century of sewing and a beautiful testament to a lady who certainly knows how to finish well.
---
---
Has your world been touched by dementia? My recent book, "Finishing Well: Finding Joy in the Journey", is a collection of stories and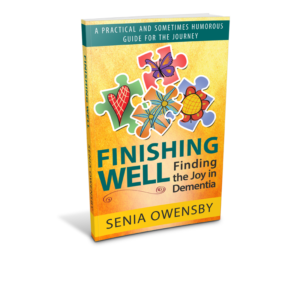 tips about doing life with my Mama. May it encourage and inspire you to find the joy in your own, unique journey.
Find our group on Facebook