"I am a lineman for the county, and I drive the main road.
Searchin' in the sun for another overload.
I hear you singin' in the wire,
I can hear you through the whine, and the Wichita lineman is still on the line"
If you began singing along while reading those words, then perhaps you were also one of the Glen Campbell fans back in 1968 when this song was "singin' in the wire" and right into the hearts and lives of both country and pop music fans.
I owned several of his albums when I was little. At the time, I didn't know what type of music it was, but just knew I loved every song Glen Campbell sang.
My husband and I just watched a documentary called "Glen Campbell: I'll be me" that is both inspiring and encouraging. It was about his Farwell Tour that the family embarked on after he received a diagnosis of Alzheimer's. The tour was originally scheduled to be a three-to-five-week goodbye tour, but ended up completing 151 concerts over a year and a half.
The documentary was filmed by Hollywood producer and Campbell's long-time friend, James Keach, who also produced the award-winning Walk the Line, about Johnny and June Cash.
"Glen and his family are so in the moment, so supportive of one another and have really dedicated their life to changing the face of Alzheimer's in America," Keach says. "I think Glen's legacy won't just be music. It will be what he's done with this journey with Alzheimer's."
The tour included three of his children in the back-up band. When discussing the tour and how Glen was able to accomplish it, his son, Cal Campbell sais "Maybe in his current state of haziness when he connects to something that he's been doing for so long or brings him so much joy, I think he becomes himself again."
Their attitude is to take each day as it comes, make the most of everyday, enjoy life and try to have fun. His son, Shannon Campbell added, "It's not all bad, really. We get to celebrate his life while he's still around."
That is good advise whether you're loved one is famous, rich and talented, or a simple soul. Try to do the activities that bring the most joy and celebrate life each day.
Kim, his wife of over 30 years, says, "We prepare for tomorrow, but try not to worry about tomorrow or else we can't enjoy today."
When asked how he wanted to be remembered, he responded, "Just for what I am. I'm Glenn Campbell and I believe in God, I believe in other people. Treat others like the way you want to be treated and help others who are less fortunate."
The documentary ends with his song, "I'm Not Gonna Miss You", which are both irony and a sad commentary considering the challenges he faces in life.
Good Bye, Glen, we're going to miss you.
Are you a Glen Campbell fan? What is your favorite song?
---
---
Has your world been touched by dementia? My recent book, "Finishing Well: Finding Joy in the Journey", is a collection of stories and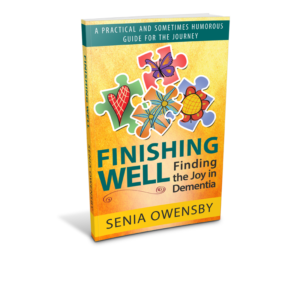 tips about doing life with my Mama. May it encourage and inspire you to find the joy in your own, unique journey.
Find our group on Facebook