Welcome!

Great starts are easy, but the main focus is on finishing well.

___Click Here  to join me in the journey by reading my blog posts as well as commenting and sharing your own stories.

______________________________________________________
Finishing well is an admirable goal, but how do you know when you've accomplished a fine finish? Are there measurable milestones? Is there a decisive factor for finishing? Criteria? Everything began has an end but not everything gets finished. Things that get completed don't always finish well. Sometimes it is within our control, and sometimes not. At times, the knowledge that we have finished well is a simply a certainty in our heart and not something we can photograph. Quitting something that we should never have started in the first place is finishing well. Knowing when to cut losses is finishing well. Releasing something we love is finishing well. Hugs and tears and waves goodbye is finishing well.
______________________________________________________
Good news! "Finishing Well: Finding the Joy in Dementia"  is now on KINDLE! 
Click Here to get your digital copy!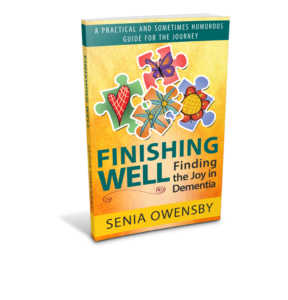 A thought occurred to me a little over a year ago:
I could write a book to share some of the stories and experiences with my Mama on her journey into dementia. The idea became a dream and now has finally rolled into reality.
I am very happy to announce that the print version of 
"Finishing Well: Finding the Joy in Dementia"
Any feedback or reviews would be greatly appreciated.
__________________________________________________________
Are you a Caregiver? Be sure to join our Facebook group, "Finishing Well for Caregivers"