I have just arrived home after attending the monthly 'Birthday Party' held for residents at the care home where my Mama lives.  It was wonderful! Loosely Strung, a Tehama County band faithfully visits each month to play the old songs (including "Happy Birthday") to help the celebration.
February is Mama's birthday month and I had been looking forward to enjoying it with her. The residents seem to really take pleasure in the music, cake and ice cream. They engage at whatever level they can by clapping and singing along with old favorites.
Wayne and I try to attend as often as we're able. We know that Mama loves music, and even though dementia has robbed her of the ability to sing or express her emotions, her eyes are still able to speak.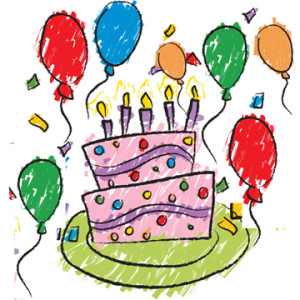 About half-way through the party, a young family joins the festivity. They have a small boy and a toddler. During one of the more lively songs, the little tot with curly black hair and a big smile, wiggles out of her Mama's arms and onto the floor. To everyone's delight, she toddles out to the center of the room and begins dancing and clapping to the music.
Up until that point, the majority of the crowd was simply enjoying the party. Those who  were able to were singing along and munching their cake and ice cream as well as keeping an eye on the tiny dancer. But then the little girl did an amazing thing.
She toddled over to one of the residents, smiled and reached her hand out to grab her walker. It was as if she put a nickel in the older lady. She suddenly came to life with a grin and began clapping to the music. The little toddler, moved on to the next one, again producing a happy response.
Everyone was watching closely now. It was almost as if there was a collective holding of breath waiting to see where she would go next. Each time she toddled up to someone, that person became more animated.
She eventually made it over to where Mama and I were sitting. She reached her hand out and touched the soft fur on one of Mama's slipper. No reaction. Mama just looked at her. I was a bit disappointed, as I had hoped for a smile or glimmer of joy from Mama. Oh well, I thought, at least I know she was able to hear the music.
All too soon, the musicians played their last song and it was time for us to leave. When I looked over to Mama to tell her good bye and that I loved her, I noticed something – there were tears running down her cheek. She had noticed the little girl. She had reacted. Tears are the only way Mama has now of communicating with us. What a wonderful birthday celebration.