While Wayne and I were visiting with Mama today, a new resident was wheeled into the activity room and up to the table where we were sitting. I was busy chatting with Mama while spoon-feeding her some thickened water, so I didn't pay much attention to the new lady.
At one point, she told us her name was Amy and asked us what Mama's name was, "Muriel", Wayne replied."
"I was hoping to talk to her," Amy said.
We explained that Mama doesn't talk much these days. "She likes to listen to others talk, and likes to sing…well, she used to sing, but she still likes it when others sing."
Amy nodded her head. Then she began singing softly.
At that moment, I was so sad that Mama wasn't able to talk – she would have really enjoyed visiting with Amy.
I resumed giving Mama her water. We finished our visit and began our goodbyes.  I looked over at Amy, she was praying softly. What a wonderful lady, I thought to myself.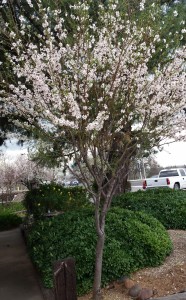 As I walked outside underneath the gloomy-gray, overcast skies of winter, I happened to notice a lovely almond tree in full bloom. How beautiful, I thought, here in the midst of winter is a spot of beauty.
I remembered that God used the almond branch to symbolize His watching over Jeremiah. I smiled as it occurred to me that God can bring a spot of beauty even in the midst of winter.
He didn't suddenly change winter to spring, He simply made something beautiful blossom in the middle of it. He didn't change Mama's winter season of life, but He brought Amy to blossom in the middle of it.
We can all find a way to blossom in the midst of someone's gloomy day.