Everywhere you go….
One of the wonderful things about this time of the year is that it is steeped in all the essential elements that help stir and awaken the areas in our brains that have to do with memory.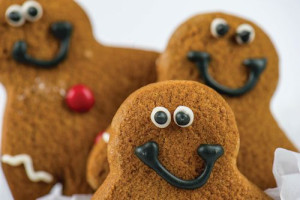 Songs. After my Mama was unable to carry on a conversation or even speak, she was still able to sing. On good days, I could pull one of her 'heart songs' out of her. Perhaps it is because, as my husband says, "Music does not reside in the brain, it lives in the soul." Heart songs are special. Not every song learned becomes a 'heart song', only the ones that somehow get embedded into the fabric of our souls. Of all the songs that a person might learn over the course of their lifetime, Christmas songs are very likely on the list. Whether your loved one believes that Jesus is the reason for the Season, or Santa Clause is coming to town, find out what songs stir, and awaken the music inside.
Smells. Recent studies have shown there is indeed a benefit to smelling: The actual process of smelling helps stimulate the neural pathways in our brain to keep them clear or even encourage new branches. The Christmas season brings with it a whole gaggle of smells. From freshly cut pine, to warm Christmas cookies and a host of other, unique fragrances and aromas that arise during this time of the year. Do you have memories of certain smells associated with Christmas? If your loved one is your parent, perhaps those would be the ones to begin with.
Visual memories. Just as 'music serves as a potent trigger for retrieving memories', decorate, or collect bits and pieces that may stimulate a lifetime of Christmas memories. Did your loved one have favorite Christmas decorations? If you don't know, perhaps ask family members or try the standard items that might trigger nostalgia such as garland, poinsettias and lights and bells. Memory Museums are popping up in many places that seem to help patients return to long-term memories of childhood and growing up.
If you are not already incorporating any of these suggestions, give them a try during this Christmas season. Of course, the nice thing about caring for someone who is no longer reading a calendar, Christmas could happen on a very regular basis.
Please share your Christmas season songs, smells and memories with us