If you are still wondering what to get someone who due to dementia might forget the gift shortly after receiving it, I just may have stumbled across the perfect answer. I just received an email about something called 'Fidget Quilts' . It looks like I'm a bit late to the party, as these don't seem to be a new idea, but since I hadn't heard about them before, I thought it might help others as well.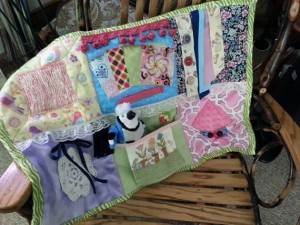 Fidget quilts are similar to the activity blankets created for babies to help keep them busy and improve motor skills using fun things like crinkle balls, zippers, buttons as well as other shiny and colorful objects.
Folks  with dementia, or any type of cognitive impairment can become anxious or agitated with a change of location such as a doctor visit, hospital or a move to a care facility. The idea behind the fidget quilts is to provide something close at hand to give the hands something to do and hopefully provide the mind with enough of a distraction to allow it to get a bit of rest.
If you sew, or know a seamstress, it might be fun to design something for your loved-one that might be calming. To help out with ideas, a wide variety of examples can be found on Pintrest. If you don't sew, there are a lot of places to order them online such as an Alzheimers Support page  as well as Etsy.com and Amazon.com.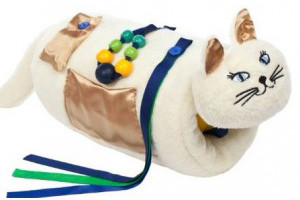 After doing a bit of clicking around the internet, I have discovered a whole world of 'fiddle' items available: Twiddle Muffs, Fiddle Cushions, Activity Aprons, Bibs, Twiddle Critters and even nut and bolt boards. All splendid ideas. The only caution I have found regarding this is that (just as with a baby), you want to make sure that everything is securely attached.
Have you found an activity that helps your loved-one with fidgeting hands? Or have an experience with the Fidget Quilt? Please share with us what you have learned.